JTDultimate
biography
I'm JD, 21 year old wannabe musician from Brisbane, Australia.

I embrace music to it's fullest, all genres and styles. I enjoy playing in bands with friends and spending hours upon hours locked in my room with my guitar.

Music is the rawest of emotions, a language we can all speak regardless of age, sex or culture.

If I'm lucky, maybe I can spend the rest of my life making music, it would be a life well spent.
0

October 3rd, 2012 + 6:10 PM
·

JTDultimate
Hey guys,
I haven't been very active here at bandamp much in the last few years, mainly because of uni and work commitments I haven't had a lot of time for writing solo music. I have however spent the last 12 months or so writing and playing in a band. Have been lucky enough to work with some top musicians. I just thought I would post a link to some of the stuff we have created just in case anyone might be interested to hear it. Feel free to "like" it too
http://www.facebook.com/pages/Skin-and-Bones/373954199332426?ref=hl
Cheers,
James
4

March 25th, 2012 + 8:03 AM
·

JTDultimate
A track I wrote for my band late last year. A simple song, less is more.

Let me know what you think.

Cheers
7

November 24th, 2011 + 5:11 PM
·

JTDultimate
Hey guys,

My band just finished recording our new EP, thought I would upload a song to see what you think.

This is probably my favourite song we've written. It was written about the struggle between drugs and soberity and trying to overcome the dark temptation.

I'd love to hear some feedback.

Cheers,
James
7

June 19th, 2011 + 11:06 PM
·

JTDultimate
Hey guys,

I'm wondering if you have a loop pedal and record several loops and have them play back at the same time could this be dangerous to your amp?

My tube amp was making some weird sounds (horrible screaching etc) at prac today and not sure if it was because I was playing over the top of a loop or something...
11

June 5th, 2011 + 5:06 AM
·

JTDultimate
So everyone's doing covers now, I thought I remember reading somewhere on here once that covers were not allowed...

Anyway I've been practicing my singing (which is poor at the best of times) and thought I would upload a cover of the Brand New song "Play Crack The Sky" to see if I could get some feedback on my singing and any tips or hints. I tried to sing with as much emotion as possible as it's quite a powerful song if you listen to the lyrics.

Basically the song was recorded in my bathroom, live with 1 microphone, 1 take, no editing.

Let me know what you think of the vocals and if you have any tips for improving vocals for live recording.

Cheers,
James
Alias:
JTDultimate

Status: Offline
Threads:
15
Posts:
76
Songs:
5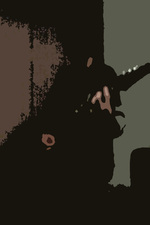 Joined: June 10th, 2006
Last login: October 08th, 2012
My Messengers
| | |
| --- | --- |
| AIM: | n/a |
| ICQ: | n/a |
| Skype: | n/a |